View Our Holiday Hours Here!
Toyota Safety Sense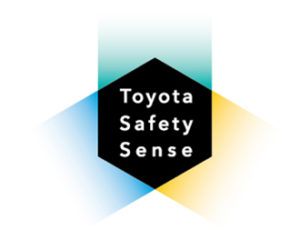 Toyota Safety Sense
It is Toyota belief that everyone deserves to arrive safely. That's why Toyota Safety Sense (TSS) is standard on almost all Toyota models. TSS is an advanced set of active safety guards designed to support driver awareness, decision making, and vehicle operation over a number of speeds and conditions.
Crash protection starts with crash prevention
Toyota's TSS system helps to address three key areas of accident protection: preventing or minimizing the incident of frontal collisions, keeping drivers within their proper lane, and enhancing road safety during night-time driving conditions.
Parking
Thanks to a number of technologies that help increase your field of vision, you can now take the guess work out of parking or backing up your vehicle. We've developed Backup Cameras with Guidelines for backing into parking spaces, a Rear Cross Traffic Alert* system that warns you of approaching vehicles when backing up, and Intelligent Parking Assist that can park your vehicle virtually unassisted.
Pre-Crash Safety
We have developed technologies that can predict the likelihood of a collision, take steps to reduce damage and injury, and to help to avoid an accident altogether. Between certain speeds, Pre-Collision System warns when an obstacle is detected by radar and will then automatically apply the brakes to reduce the severity of impact and tighten seatbelts to help protect occupants.
Active Safety
Active safety technologies are designed to assist when the unexpected happens. Blind Spot Monitor alerts you when cars are in your blind spot. Lane Departure Alert helps keep you in your lane with audio and visual alerts to tell you when you are drifting out of your lane. Lane Departure Alert with Steering Assist provides minute steering inputs to help keep you in your lane. Traction Control restricts wheel spin on slick surfaces when you are travelling in a straight line. Vehicle Stability Control helps keep control on slippery surfaces by reducing engine power and applying brake force automatically. Anti-lock Brakes prevent wheel lock during abrupt stops by applying "pulsing" brake pressure. Electronic Brakeforce Distribution enhances stability when braking, while Brake Assist detects sudden braking and adds pressure to prevent a collision. Some technologies, like Vehicle Dynamics Integrated Management, are so advanced that they can predict your intentions and then automatically activate a number of safety systems to ensure the highest possible level of vehicle control and stability.
Passive Safety
From airbags to seatbelts to crasg-absorbing body structures that channel impact energy away from the cabin, Toyota vehicles are fully equipped with passive safety measures. We've even specially designed our headrests and driver and front passenger seats to help reduce impact effects such as whiplash.
Contact Us To Learn More